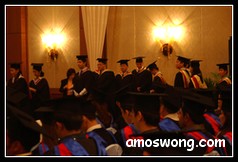 It's been like 11 months since I finished my Masters degree and my brain is telling me to go back to school and complete the final phase of human intelligence; the Doctor of Philosophy, short form, PhD. Some refer PhD to that of one who has Permanent Head Damage.
The thought of going back to school, to face me lecturers and supervisors, to read books (yuck), to sit for exams (faint) simply scares me. Worst still, the thought of enduring this abuse for the next 5 years is somewhat unimaginable. No more late nights supper, no midnight movies and no more long vacations. At least I have some excuse to tell me boss why I can't work long hours…

My Masters took me nowhere. Didn't get me a raise, didn't get me a consideration for promotion and didn't get any extra respect from my peers. I remembered the day when I told my boss, "I've just got my final results. I passed with an overall distinction". He replied, "So?". That's the worst anti-climax anyone can throw on you. Even the worst of cinema movies can beat my boss' reply. Why then, you ask, that I should even think of continuing with the PhD program.
Deep down inside me, in the very center of my heart, I have always wanted to achieve the pinnacle of academics. I want to do this too as an honour to my parents. They have painstakingly worked their way from poverty and brought me up good. I am pretty sure my parents will be proud if I ever achieves this.
Fact of the matter is, nothing will beat the feeling and the joy and the pride when your bosses need to address you as Dr.