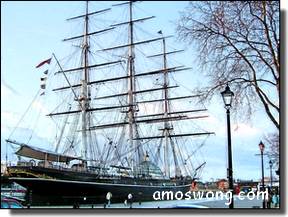 It is indeed a sad day today as Cutty Sark goes up in flames. Cutty Sark's life began in 1869 as a tea clipper. Born off Scott & Linton at Dumbarton, Scotland, Cutty Sark was used for tea trades between London and China. The ship has since retired from sea faring but continue to open its doors and hull to tourists at Greenwich. Cutty Sark is currently undergoing restoration until the dreadful fire today; now, she is really retired. What a loss to a natural historical monument.
Come to think of it, why is that humans try to preserve its past? Why are these historical "things" important? Many would "mourn" the death of Cutty Sark but have we done enough to appreciate her when she was alive?
Likewise, we should hold dear to what we have presently. Our families, our colleagues, our environment, our lives. Break away from the clutches of procrastination and criticality. Learn to live life with tolerance and leeway. Do things to the best of our abilities, capabilities and ethically. Don't wait until fire catches up to you.