Those of you who are my age will definitely remember the cartoon Spy Vs Spy where the cartoon portrayed 2 identical spies but of different colours. Once being white and the other black. Just like their colours, this 2 spies are not compatible and will go after each others' necks in a bid to outdo one another.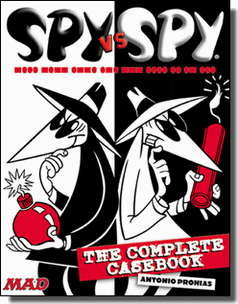 Frankly, I hate this series of cartoon. Absolutely hate them. During my younger days, even though I dislike this cartoon, I will stay glued to the idiot box, not to watch the funny antics but to see what cool spy gadgets that the cartoon used. For those of you who have not seen this series of cartoon, click the YouTube video below to watch one of them; and for those of you who have, here's a re-run.
Now that you have enjoyed the cartoon, did it spurred you to be a spy? Well, it did for me way back in my teens. After watching Spy Versus Spy on the TV, I was so geared up to be a spy, dreaming of buying spy gadgets like the ones used in the cartoons. But alas, it remains only a dream. In the past, there are no such toys or gadgets available for purchase.
Nowadays, you can read and buy spy gadgets all over the Internet as you please. For example, I found an article about a very discrete but extremely expensive listening bug in the form of a 3-way power plug over at Spy Review.
In Kuala Lumpur, you can patron spy gadget stores located within commercial shopping complexes where products such as spy cams, phone jammers and keyloggers are readily available over the counter. But, if you are adventurous enough and truly a spy-savvy candidate, go ahead and make your own spy gadgets.