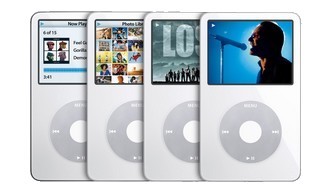 Months and months of saving my hard earned money has finally paid off when I got my very own iPod Video 30GB White.
To sweeten the achievement and to my pleasure, the iPod has performed wonderfully after I had transferred all the songs and videos using iTunes. With this, that's one gadget off my wishlist.

Quick rundown of the iPod Video 30GB:
30GB of space. In actual, 27.8GB because of Windows thingy.
Battery life is approximately 14 hours. Charging time is 4 hours (full) or 2 hours (80%). Charging is performed via a USB cable attached to your laptop or desktop.
Weighs in at 136 grams
Plays music and videos. Extra functions such as photo albums, calendar, to do, games and podcast.
So far, the drawbacks/shortfalls I noticed are:
Integration with iTunes. To add and remove songs from your iPod, you need to do it through iTunes. There is no drag and drop function for transferring of files.
Wall socket charger (like your mobile phones) is considered an accessory which you need to purchase separately. Available for RM119 at MacStudio (Ikano Power Center).
iPod earphones are crappy. No difference with the normal Sony or Philips earphones you can purchase in Tesco. I am going to look for some Koss earbuds.