I have always have had this dilemma. When is the right time for me to send my kids to swimming lessons? At what age should they start to learn how to swim? Asian parents generally are very protective of their offspring and like many, my wife would say a 7 year old is still too young to swim. What if they drank the pool water? What if water entered their nose? Worse still, what if the water entered their lungs? I know, paranoia.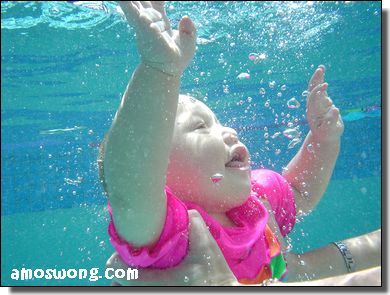 My English friend, John, on the other hand, started her daughter's swimming lessons when she was a few months old! I repeat, few months old! When John came a visiting us, we would hit off to the swimming pool on weekends. John will just throw is baby into the pool and to see the baby squirming underwater made a lump in my throat. A few seconds later, John will pick up the kids and they both laughed at each other. He does this every time we went swimming and does it countless of times. I will never do that to my kids – the fear of uncertainty is too intense for me.
John told me not to worry as babies and swimming are like ducks taking it to the water. I don't know about ducks and I don't think I will ever put my kids underwater; after all, I only started learning how to swim when I was 9.