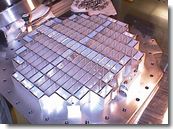 In February 1999, NASA launched [tag]Stardust[/tag] spacecraft to travel 3.2 billion kilometres to collect a handful of [tag]cosmic dust[/tag] (dust from comet and interstellar). The dust are collected in January 2004 using tennis-racket-like collectors filled with [tag]aerogel[/tag]. The motivation for this scientific cause as posted in Stardust@Home's site:
The scientific importance of these first solid samples from our Galaxy can't be overstated. Interstellar dust and gas were the building blocks of our solar system, the Earth, and all living things, including people. We are truly made of stardust. But we don't know what the typical interstellar dust grain looks like. Not even one contemporary interstellar dust grain has ever been studied in the laboratory! In January 2006, the Stardust spacecraft will return to Earth, for the first time, a few dozen precious contemporary interstellar dust grains. We are extremely excited about the prospect of directly studying contemporary interstellar dust for the first time.
The challenge that the scientific community is facing is rather ironic. They are able to send spacecraft to faraway-3-dimensional-lands to collect dust but once the dust return home, they need 20 years to search for the dust if they do it themselves. The problem is not finding the comet's dust but rather the interstellar dust. It is estimated that searching for the interstellar dusts is like searching for 45 ants in an entire football field.
Therefore, NASA is now calling for volunteers to help comb the aerogels in search of the dusts. Not all volunteers will get a chance to scan the images as there will be a test and selection process. I've volunteered as I do not want to miss the chance to see a cosmic dust first hand and be credited if I find one.
As of the time of this post, the spacecraft Stardust has successfully landed in Utah. Work has begun and it is estimated that the first image for cosmic dust search will be made available on 1st March 2006. For more information and to volunteer, visit Stardust@Home.