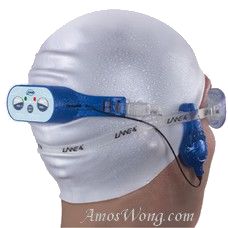 I was scouring on the Internet, looking for information to some of the best MP3 players. I intend to get one which plays MP3 as well as FM radio. On top of that, I needed some 1-2GB of storage space (both for music and data).
While I was browsing around, I bumped into Finis' SwiMP3 product. Built for the swimmer or snorkeller, you will be able to observe that the player is located at the back of your head instead of dangling at your waist. There is no earplugs or earphones as the sound is conducted from your cheekbone and directed to your inner ear.
With this fully waterproofed MP3 player, you can now enjoy your music while swimming, snorkelling and practically any other water activities involving water (may not be a good idea for scuba divers). The SwiMP3 is compatible with Windows and Macs. You will need 32MB hard drive space on your computer and an available USB port.
The SwiMP3 is priced at RM720 (US$199.99) and is available from Finis Inc.