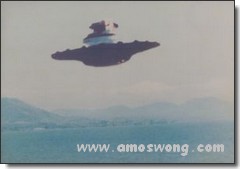 How many of us can really say that we have seen UFOs before? In general, the moment the letters U-F-O are mentioned, we will think of little green beings with long limbs, big heads and bulging black eyes.
Many do not realise that UFOs are really Unidentified Flying Objects which means anything that flies and cannot be identified. It could be a odd-shaped balloon floating in the air or it really could be an intelligent alien being flying in spheres, cylinders and disc shaped crafts.
UFO sightings are nothing new nowadays. Even in our country Malaysia, various UFOs were reported in the past. For example, sightings of a disc shaped UFO right smack in our capital Kuala Lumpur.
But from my personal encounters with close acquaintances, there were sightings of an orange sphere the size of a soccer ball hovering about 12 feet in the air ironically at a soccer field at night. This happened in Sri Gading, a small town just outside of Batu Pahat in the state of Johor. Eye witnesses said that on one particular night they saw an orange sphere hissing and hovering for a moment about 12 feet in the air before fizzing out of sight.
My curiosity got the better of me and I've searched around for some possible scientific explanation. My search has led me to phenomenon known as St. Elmo's Fire and Kugelblitz. I'm not sure which of these phenomenon happened in Sri Gading but it's great to know that science could prove that these occurrences are not paranormal.
If you are into paranormals and UFOs, do pay a visit to http://www.ufoseek.org/, where a large and updated collection of UFO news can be found.
[tags]Malaysia, UFO, sightings, UFO sightings, paranormal, St. Elmo's Fire, Kugelblitz[/tags]