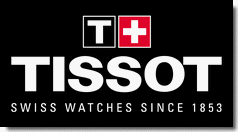 My Tissot watch died on me just a day before the Chinese New Year festival. During the festivity period, I had to rely on my O2 phone for time. After a few hours, I realized that it was much easier to check time with my wife "Honey, what time do you have there?".

As it was the festive period and falling on a weekend, I decided to service my watch after the festivals which is today.
Finding the service center was difficult. Online search at Tissot's website wasn't much of a help either. I dug through my Tissot's guarantee card and could find any numbers for the service center. Almost given up hope, I called a friend who called another friend and got hold of the telephone number. Guess what, it was a fax number.

My finally walked over to Goldhill to have my watch services. For those of you who are in dire straits to have your watch serviced, here are the contact details:
The Swatch Group (Malaysia) Sdn Bhd
Level 22, Wisma Goldhill,
67, Jalan Raja Chulan,
50200 Kuala Lumpur.
Telephone Number: 03-20508922/8925/8888
Fax Number: 03-20508997
The center is opened from Monday to Friday 9.00am to 5.30pm only. Besides Tissot, they are able to service Omega, Rado, Longines, Swatch and other brands of watches too.