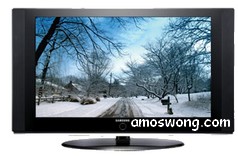 After scouting around electrical shops, specialty shops, shopping centers and shopping malls, I was led to believe that one of the best LCD TVs around is of the Samsung brand and more specifically, the Samsung LN-T4665F which is a 46-inch LCD HDTV. Even without switching it on, the LCD TV itself is a head-turner; many thanks to its glossy finish and round blueish power-on switch.
I have just purchased a DELL 22″ Widescreen LCD monitor last week at rock bottom prices for my home office and now my hands are itching to replace the Sony Wega television that I have in my living room. I sure hope my wallet can keep up to my buying nature

.
If I do purchase this magnificent TV, it's going to be the most expensive single item in my house (apart from the house). Not only is my computer monitor flat, my TV is going to be flat and all that will flatten my wallet. Do you own a LCD TV? Tell me all about it; the goods, the bads and the ugly.