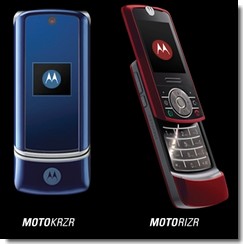 The RAZR range of mobile phones has been such a success, selling more than 50 million units since it was launched in November 2004. It was so successful that Motorola has now added 2 new RAZR phones to the family. They are known as the KRZR (pronounced Crazer) and RIZR.
The MotoKRZR is designed as a flip phone which is slightly narrower than the RAZR, sports a 2 megapixel camera with video function and a built in music player. The Motorola KRZR has a screen dimension of 176 x 220 internally and 96 x 80 externally; with both screens at 65,000 colours. Connectivity-wise, Bluetooth and EDGE high speed data is available on the phone. The phone comes with a 20MB internal memory, extendable to 1GB of external memory.
The MotoRIZR on the other hand is a thin and narrow slider phone. The specifications for RIZR is very similar to the KRZR except for the slider design.
The KRZR is expected to be available in a couple of months time while the RIZR in the 4th quarter. A good time to save some money for those of you who desire these latest wonders and a nice gift for the loved ones for the upcoming festive seasons. Unfortunately, the prices are not available as yet.
Click here for more information on MOTOKRZR and MOTORIZR.
[tags]RAZR, KRZR, RIZR, MotoRazr, MotoKrzr, MotoRizr, Motorola[/tags]