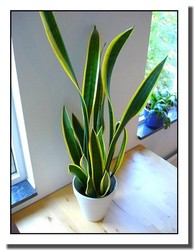 Mother in-law's tongue also known as the snake plant or the Sansevieria, is an excellent indoor ornamental plant for offices, homes and buildings.  This plant is also called the "bedroom plant" because it converts carbon dioxide (CO2) to oxygen (O2) at night.
Besides the precious conversion to oxygen, this plant is able to purify the chemical formaldehyde.  Examples of where this chemical exists are foam insulation, plywood, pressed-wood products, grocery bags, waxed paper, fire retardants, adhesive binders in floor coverings and cigarette smokes.
We will need 6-8 waist-height plants per person for air purification.
As far as I know there are 2 methods to grow the Mother in-law's tongue:
Re-potting – From an existing plant, lift the plant and look for shoot or offsets. Cut though the flesh that is attached to the parent plant and pot it.
Cuttings -  From the stem, cut 4 inches across the grain and pot it.  Beware of the orientation to ensure that you pot it the right side up.  In about 4 weeks, you will have a mother in-law's tongue plant.  If you see new offsets, you can re-pot those as well to propagate more plants.
In both instances of growing, ensure that the soil is moist and not soggy.  Water minimally once a week but before that, test to ensure that the soil is dry before watering. This is because the mother in-law's tongue dislikes over-watering where the root will rot.