My kids are wearing me down; screaming, shouting and getting on everybody's nerves. I think it's their way of seeking attention. When I start working on my computer, my kids will crowd around me and demand to play with the mouse, play online games or simply request to sit on my lap. More often than not, they will conquer my desktop within 3 minutes and so, daddy's got no access to the computer, Internet or work.
Now, I work a lot at home. I'm practically on my computer 18 hours a day for my day job as well as for my hobby in webmastering. I need to have my own space where kids cannot get access to me. Therefore, I've decided to build me a home office. I'll convert one of my guest rooms to be my office. It's a grand plan and I believe it's going to cost me some money but it's all worth it. The below below inspires my idea of a home office.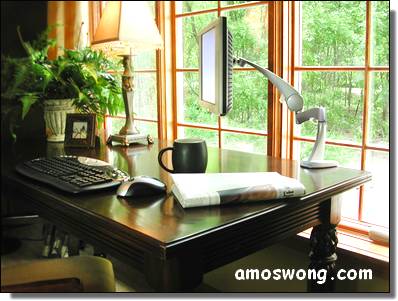 For the room, I'm contemplating whether to install air-conditioning or one of those Matthews Gerbar ceiling fans for ventilation.  I will have timber floors since walking on them are very comfortable (try them if you have not).  I will reuse my tables and chair while my equipment is all ready.  I've got my desktop CPU with flat panel LCD screen, the wireless keyboard and mouse from DELL, UPS from Merlin Gerin and my speakers from Altec Lansing.
I hope to complete my home office project within a month and hopefully I can share a picture of the setup like the one above.