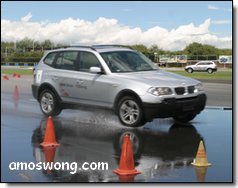 One of my cousins in the US is going to get her driver's license soon after completing her Texas driver education course. What surprised me was that my uncle was the one who supervised and taught her driving lessons. Apparently, in Texas, you are allowed to coach your children after the parent taught driver education program was launched. Unlike here, we are required to register with a accredited driving training school and drive some old junk around before sitting for our practical tests.
Those of you who remembers the driver's exams are going to shiver just thinking back. First, there was the hill test, then the parallel parking test, then the 3-turns test and finally the treacherous on-the-road test. Fail any of these and you can kiss your driver's license goodbye. If I'm not mistaken, you can only apply for a re-test after 3 months.
The next thing that surprised me was when my cousin told me that you can start your Texas driver education at the age of 14, get a learner's permit at 15 and get a full driver's license by the age of 16. Wow!! That's pretty young to start learning driving, in my humble opinion.  Well, cuz, good luck to you and when I get there, you're gonna be my chauffeur.