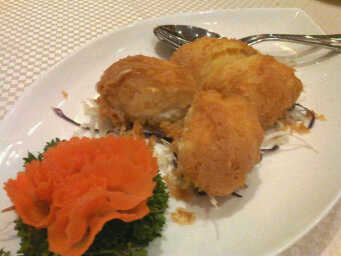 The next time you visit Resorts World Genting (passionately known as Genting Highlands), head on to the Imperial Rama Restaurant — located in Highlands Hotel.
There is this dessert dish that is to-die-for. Each time I get the opportunity to eat there, I'll make sure that I order the Durian Tempura.
The food presentation is rather "normal" but the taste is awesome; close to heavenly. The trick here is to eat it immediately when served. The weather in Genting is humid and cold; so your dish is going to get soggy when left on the lady susan for a while.
When you take a bite, you will be overwhelmed with the ying and yang sensations. The outer tempura is hot and crispy while the durian paste inside is soft and cold. When this ying-yang mixture is in your mouth, the hot neutralised the cold while the soft texture counters the crispy-ness.
My hats-off to the chef. Well done and the price (RM$8 each) I paid for is well worth it.