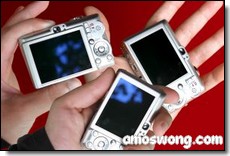 Digital photography is a form of photography in which electronic cameras are used to store photos in the form of binary information. Computers play an important role in the field of digital photography, since they can be used to store and edit these images. Pictures taken which are undesirable can simply be deleted. Many people with whom I have talked to believes that digital cameras will one day replace traditional film cameras. In addition to being able to take photos, many digital cameras are now capable of recording both video and audio. In addition to this, a number of popular cell phone models have features that are very similar to digital cameras.
In digital photography, sensors will be used to analyze the input of light, and they will use this information to store images. The light will often come in the form of chromatic information or luminosity. The sensors for digital photography are broken down into two categories, and these are CMOS sensors and charge-coupled device, which is also known as CCD. In addition to this, there are two array types that are used in digital photography, and these are linear arrays and area arrays. The area array will read the whole image, while the linear array will only read certain portions of it. The area array sensors have allowed digital cameras to become substantially lower in price.
The cameras used in digital photography have a number of impressive features. One of the most impressive things about these cameras is that they can be used for multiple tasks. The cheapest digital cameras available on the market are web cams, and the most expensive cameras are the linear array cameras. There are a number of ways photos can be stored, but in most cases, a flash memory device will be used. When these cameras are used to take pictures, they may also be able to record both sound and video simultaneously. Perhaps one of the most impressive things about digital photography is that some cameras can be connected to printers without having to go through a computer.
Unlike traditional film cameras, digital cameras are designed to work directly with personal computers. There are a number of digital cameras which can also be used as web cams, and they can transfer photos onto the computer. In most cases, the camera will connect to the computer through either a FireWire port or a USB port. Digital photography has become a lucrative field because it has extended the capabilities of photographers while simultaneously lowering the price. It is possible for many digital cameras to record video, though they are limited in how much they can record. If a one gigabyte memory card is used, it is possible to record a one hour video within the MP4 file format. There are a number of things that are used to determine the quality of a digital camera. These factors are processing, capture format, lens quality, and capture medium. In addition to this, the number of pixels used is crucially important as well. A higher number of pixels means that the images will have higher levels of quality.
[tags]digital photography, digital photo introduction, digital photography introduction[/tags]