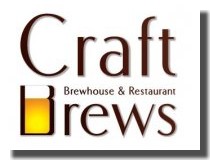 2 weeks ago (more specifically on the 18th of December 2009), a new watering hole emerged in Mutiara Damansara to cater to all thirsty throats.  I had a chance to visit their establishment on a working day; where I attempted to try their signature beers.
Craft Brews carry the normal brand of beers such as Carlsberg and Hoegaarden as well as a line of American beers called the Flying Dogs.  A look at the packing labels of the Flying Dogs have already made me decide not to try them; it did not look delicious.  Craft Brews also serves what they call the signature beers (brewed by Red Dot Brewhouse); Czech Pilsner, Monster Green Lager, Weizen (Wheat Beer) and English Ale. Descriptions of each beer is appended below — I took it from Red Dot's tasting notes page.
When I was their, they were out of English Ale, so I tried their Weizen, Monster Green Lager and skipped the Pilsner.  Weizen tasted good and fresh but I would stay far away from their Green Lager; the after taste that lingers in my mouth is undesirable.
There is nothing to shout about happy hours at Craft Brews simply because it's RM2 off normal price. I would have expected a 30% off or buy-one-free-one kind of happy hour deals. We are, after all, talking about a working day's happy hours.
Plenty of parking at Craft Brews and parking rates are RM3 flat after 6pm. Details of Craft Brews:
Address: G3 Podium, Ground Floor, Menara Batu Kawan, 1 Jalan PJU7/6, Mutiara Damansara, 47810 Petaling Jaya, Selangor.
Telephone: +603-7722-3000
Opening hours: Mon – Sun 12:00pm to 2:30pm and 5.00pm to 1.00am
Red Dot's Tasting Notes:
Czech Pilsner
A classic pilsner, this has a pale straw colour and bubbly appearance, and a malty taste and pleasantly floral nose. Low on bitter flavours, a smooth and light hop flavour adds an edge to the Czech Pilsner. Finishes clean and crisp on the palate.
Monster Green Lager
Strikingly green coloured pilsner definitely stands out for sheer novelty value but the taste doesn't let down as well what with its traditional subtle taste of hops. Brewed and lagered with European-manufactured spirulina to give it a unique colour and a whiff of fresh fragrance.
Weizen (Wheat Beer)
Golden and cloudy in appearance, the Weizen has a fruity nose and a lightly spicy flavour. It's light-bodied and very refreshingly easy-drinking.
English Ale
For those who like a stronger tasting full-bodied drink, the English Ale is a complex combination of flavours – smoky, spicy and hop-py, while being somewhat vinous. A rich ruby red, the ale has a good balance of smooth malt.