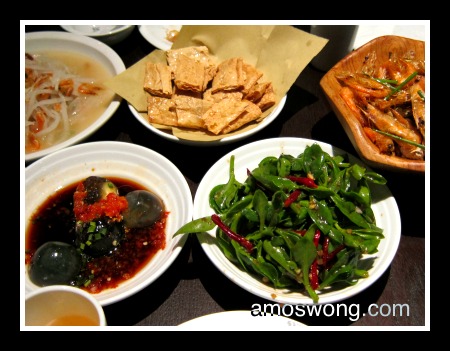 Local food in Hangzhou is also known as Hang-bang-chai and there are plenty of stores where you can get your local servings.   In this post, I will share with you the 3 very affordable restaurants for your daily Hangbangchai fix.
Grandma's Kitchen also known as Waipojia
At this restaurant, the huge list of dishes listed in the menu was the first thing that caught my attention.   Ask the waiter or waitress for their signature dishes and you cannot go wrong.  There are many branches located all over Hangzhou but my favourite was the one next to Xihu (West Lake); simply for its proximity to the lake and the many tables that they had.  Be warned of long queues during lunch and dinner hours.  Be early or late at the restaurant if you dislike queuing. Food are served quick even though the restaurant is full. www.waipojia.com.cn
Green Tea Restaurant
The concept is similar to Waipojia and so are their queues during rush hours.  I dined at the branch located next to Xihu and food was served quickly too.  Do indulge in their Green Tea Beer.
Zhiweiguan
I patroned this restaurant in the morning for breakfast.  You will have to buy vouchers to be exchanged for food at the counter.  Unused vouchers can be returned at the same counter for cash returns.  The food here feels like Hangbangchai unchanged since the restaurant opened.  I did observe locals thoroughly enjoying their food but some servings are not to my liking.