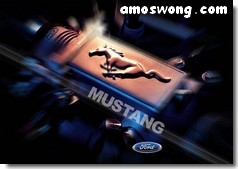 As a continuation of my earlier post about Hollywoods Cars and Mustangs, I have performed some search on the Internet with regards to the love of Mustangs. As we may all know by now that online forums are the best place to search for a community that have similar interests.
My first stop was at Mustang Forums where there exist a thriving community of over 46,000 Mustang lovers, congregating and raving about nothing except Mustangs. At this forum, one can expect discussions on Mustang maintenance, technical assistance for auto repairs, various how to's and Mustang performances. Check out some cool video clips located at the Mustang Videos section.
While I enjoyed reading some of the discussions on the Mustangs, I was curious about the history of the car. I did a quick search in the same forum and presto, I found a great resource on the Mustang timeline. Just a quick outline; Mustangs first entered the streets in 1964 and apparently was a huge success. Throughout the years, various models of Mustangs were rolled out to satisfy the hunger of Mustang enthusiasts right up to the 5.4 litre 2007 concept car.
We all know that the great Mustangs are manufactured by Ford Corporation. If you are a Ford car enthusiast, you should check out Ford Forum.
[tags]Ford, Mustang, Mustang forum, Ford Forum[/tags]