I've got good news and bad news for you. The bad news is – GMail Notifier works on Windows 2000 and Windows XP. This is stated on the main page of GMail Notifier. To be honest, I did not test GMail Notifier on my newly installed Microsoft Windows Vista machine. I love GMail Notifier when I had it on Windows XP; where I can be alerted of incoming emails without the need to login to GMail.
When I moved over to Vista, I lost that functionality for a little while until I found out that…. (this is where I break the good news) Google Talk application acts like GMail Notifier for Vista users. Yes, all you need to do is to install Google Talk and you will be alerted of new emails like the screenshot below.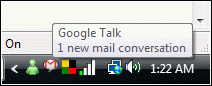 Actually, Google themselves did mention this on their site:
If you have the Google Talk client installed, you will automatically receive new mail notifications from Google Talk and you do not need to install the Notifier.