I have received a number of emails and calls from my friends, all asking me questions about making money over the Internet. Most of them have the idea that there is a pot of gold sitting somewhere in cyberspace and all they had to do is stretch out their hands and grab it. How wrong and ignorant they are (my apologies for being blunt).
If you noticed, I have included an additional subcategory called "Making Money". Here, in this topic, I will reveal ways for you to monetize money from the Internet and directly into your Paypal or GBuy account. But remember, you've got to work hard in order to maintain a sustainable income.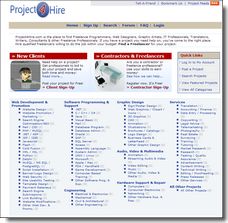 And for the maiden method to make money from the Internet, allow me to include sites such as Project4Hire. If you are a developer and have time to be a freelance programmer, you can go over to the website and look for web programming jobs. Or you have the capabilities in web development, you can search for custom web design jobs. Project4Hire is not only about technical freelance jobs. They do have a number of non-technical jobs suitable for freelance writers, translators or photographers. With a large category of jobs available on Project4Hire, I am quite sure that you will be able to find some jobs in that website that corresponds to your skills and abilities.
Stay tuned for more ways to make money online; the legitimate way.
[tags]make money, internet money, freelance jobs, Project4Hire[/tags]